Tiny Houses at first glance are much cheaper than traditional houses.  However, let's take a closer look at the costs involved in tiny house living versus traditional house living.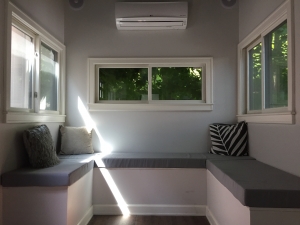 The cost to build a tiny house is more per square foot, but less overall.
Why? Tiny houses are smaller.  The cheapest square footage in any home, whether tiny or not, is empty space.  The most expensive space per square foot in a home is the kitchen and bathroom, which have appliances installed that need electricity and plumbing.  A tiny house on wheels still has all the appliances and fixtures: a toilet, shower, and sink in the bathroom, and a fridge, sink, and cooking device in the kitchen, just like a "big house"; what we're eliminating when building tiny is the cheapest space: empty floor space.  That's why the cost per square foot is higher in a tiny house.
However, in a tiny house, the overall material cost is less than in a traditional house, simply because there's less space, which means less material, labor, and time to build.
The cost of a tiny house doesn't include land or hookups for water and electric.
With a tiny house on wheels, whether you're planning to buy land, lease a spot in an RV park or stay in the backyard of someone you're renting a space from, you'll need to factor this cost into your overall budget.  Tiny houses can be connected to RV hookups in an RV park or permanently hooked into water, septic and sewer.  If you're buying raw land (with no water and power) you'll need to have a well dug and power connected.
Generally when buying a traditional home it's already hooked up to utilities and is being sold with a plot of land.  Therefore, be sure to factor in not just the cost of the tiny house itself, but the land and hookups when comparing the cost of a tiny house to a traditional home.
Tiny house financing is often for fewer years than traditional mortgages.
B&B's tiny houses on wheels are certified by the RVIA and therefore financed like RVs.  RV financing can be through your own bank or through a national lending institution.  As an example, as of 12/21/18 Lightstream's website lists their RV loans up to 84 months, or 7 years.  Traditional mortgages are often 15 or 30 years.  Tiny houses, because of their smaller price point and smaller finance time, are usually paid off before a traditional mortgage.
Remember, though, that RV loans are just for the tiny house itself, not the land the house is on.  If you'll be buying a piece of land to put your tiny house on, that would be either paid for all at once or financed separately.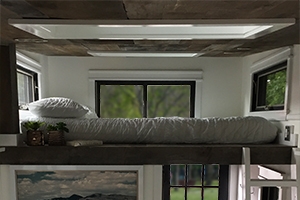 Tiny houses' utility bills are less.
Tiny houses are smaller than traditional houses, which means less space to heat or cool.  Because they're on wheels, we never know where they'll end up, so we build our tiny houses to withstand any climate in the continental United States.  Our shop is in a rather extreme climate zone so we understand the need to be warm in the winter and cool in the summer.  The tiny houses on wheels we have built have been toasty warm in New Hampshire in negative temperatures as well as nice and cool in the Texas heat.  Double-glazed windows, high R-value insulation in the floor, ceiling and walls, and efficient heating and cooling systems used in B&B Tiny Houses make for some pretty tiny utility bills.
If your tiny house design gets big enough, in some cases it can make more sense to just buy a regular house.
B&B Tiny Houses' longest tiny house is 32′ long (on a 30′ trailer with a small overhang) and our widest tiny houses are 10′ wide (the Kinderhook and the Taconic Park Models).  If you're not planning on moving your tiny house, "large" tiny houses can be a great way to get some extra elbow room.  When you start going bigger than 10′ x 30′ though, depending on all the other factors mentioned above it may make more financial sense to just have a traditional permanently-affixed home, park home, or modular home built.
To recap, be sure to consider all of the costs involved with living tiny versus living "large": not just the cost of the houses themselves.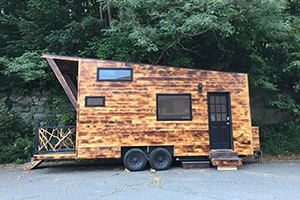 https://www.bbtinyhouses.com/wp-content/uploads/2019/02/sharon-mccutcheon-8lnbXtxFGZw-unsplash-scaled.jpg
1707
2560
Rick Porco
/wp-content/uploads/2019/09/badgelogo.png
Rick Porco
2018-12-21 13:03:48
2021-09-28 11:40:36
Comparing the True Cost of a Tiny House Versus a Traditional House