Many people who want to go tiny do so because it's a wallet-friendly housing choice.  Whether for a primary residence or a vacation home, tiny houses use less materials and less energy over time than traditional single family homes.
Much of saving money on a tiny house build involves understanding the many different options available to you in the tiny house buying process.  Here are some points to consider when saving money in your tiny house.
---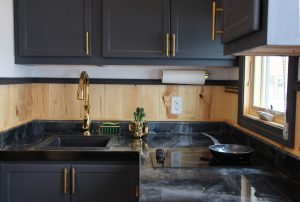 Go with an already-designed tiny house, not a custom design
This is the single greatest money-saving action we can suggest.  Custom designs will cost more than a house that's already in our Signature Designs, and this applies to every step of the process, not just the design phase.  Even after the designer's finished with the blueprints, the builders will need to spend more time on each aspect of the house, since it's not one they've built before.  Time is a very large percentage of the final cost, and cutting down on our time spent working through new challenges with a custom tiny house will cut down your overall final cost.
But don't worry, you can still make your tiny house your own, even if it's picked out of our catalogue of Signature Models.  You'll be able to choose all the colors, materials, and fixtures for your tiny house.
We offer three options for making your tiny house your own:
CUSTOMIZATION CHOICES, like exterior and interior wall materials, appliances, colors, open shelving versus cabinetry with doors, are always free— these choices will be reflected in the materials and installation cost.  These choices don't require the tiny house designer to change anything about the blueprints of the house.
ALTERATIONS TO OUR EXISTING BLUEPRINTS are $800, which includes two free revisions.  Any further revisions are billed at $50 per hour of the designer's time.  The extra build time and materials for an altered floor plan will be built into the quote.  Alterations include adding a loft to houses where possible, changing window sizes and locations, designing a custom staircase, and changing the roof shape where possible.
ENTIRELY ORIGINAL DESIGNS are available when we will be building three or more tiny houses; there is a design fee of $2500. This includes two free revisions.  Any further revisions are billed at $50 per hour of the designer's time.  The extra time taken to build a custom, rather than a mass-produced, tiny house will be built into the quote.  Custom tiny houses generally start at $90,000.
---
Choose standard materials
We can build anything you want as long as it's within the RVIA's safety standards.  One of the owners of B&B Tiny Houses, Mitch, likes to say "we'll build a slide off the roof" (we haven't received an order for that one yet)!  However, just because we can build something doesn't mean it's not going to cost money.  Similarly to the previous section on choosing a standard design, choosing standard materials that we already know how to install and that they work well in tiny houses will save us time and save you money.
Our list of common upgrades for our tiny houses doesn't represent everything we can do and everything we've ever built into a tiny house, but it's a great representation of what upgrades we are comfortable making and already know how to install efficiently.  We are happy to research, price, design for, and build with materials or fixtures that aren't on that list: we'll just have to build the extra time spent on non-standard materials into the final price.  Don't worry: we think you'll be very happy finding exactly what you want within that extensive list.  Sometimes we even have leftover materials from a previous project that might work well in your house that we can offer you a discount on: we'll be sure to let you know if so.
---
Choose inexpensive materials & fixtures from our list
Another way to save money on your tiny house is to go with basic materials.  Each tiny house is listed with a starting price.  This starting price includes basic materials and fixtures.  Here's a list of our basic materials and what an upgraded material in the same category might be.  The difference between tiny houses using all basic materials and tiny houses using all upgraded materials can be quite significant in the final total.
The kitchen shown in this Hoosic tiny house uses all basic materials included in the starting price: a two-burner built-in cooktop, a small kitchen sink, a mini-fridge built into the cabinetry.  Of course, you can upgrade this kitchen to include an apartment-size fridge or built in fridge and freezer drawers, a propane stove and oven, a large undermount sink, and a convection oven/microwave (see these features in the Kinderhook tiny house), but this will, of course, cost much more.  Being frugal with your appliance choices makes for a great deal of savings in the end.
| | | |
| --- | --- | --- |
| | Starting Price Includes: | Upgraded Tiny House Might Include: |
| Exterior | Vinyl Clapboard | Vertical Solid Wood Shiplap |
| Roofing | Asphalt Shingle | Ribbed Metal |
| Interior Walls | Sheetrock | Solid Wood Shiplap |
| Climate Control | In-Wall Electric Heater | Mini Split (Electric Heating & Cooling) |
| Cooking | 2-Burner Glass Cooktop | Stainless Steel 3-Burner Propane Stove/Oven with Range Hood |
| Refrigerator | Mini-Fridge | Apartment Size Fridge (24″ w x 68″ h x 25′ d, 10.1 cu. ft. |
| Dishwashing | Kitchen Sink | Kitchen Sink & Dishwasher (Certain Models Only) |
| Shower/Tub Insert | Vinyl | Custom Tile |
| Bathroom Sink | Mini Sink with Vanity | Mini or Full-Size Sink with Vanity |
| Washer/Dryer | Not Included | Washer/Dryer Combo (Certain Models Only– Not Available with Solar Power) |
| Toilet | Your Choice- Inquire For Pricing | Your Choice- Inquire For Pricing |
---
Choose standard power and water hookups rather than going off-grid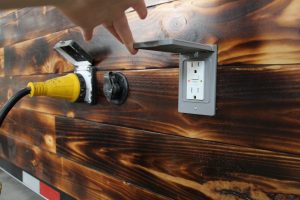 Going off-grid in a tiny house is possible, but the up-front cost isn't cheap.  Likewise, if you'll want to run electric appliances in your off-grid tiny house, you can, but not as many or as often as you might when you're on grid.  The cost of setting up a solar system capable of running appliances in the same way that one normally might in an on-grid situation can double the cost of the tiny house itself!  Running large appliances like a washer/dryer, or many appliances at once, will require large battery storage as well as an array of many solar panels: more that can fit onto the roof of a tiny house.
If you will go with off-grid solar and want to be frugal (or if you'd like to travel with your solar panels), you'll have to eliminate most electric-run appliances from your list and plan on using other sources of energy, like propane.
The simplest, cheapest power source for your tiny house is running an extension cord and a potable water hose (with heat tape in winter!) from a building that already has power and water.  Many people who live in their tiny houses full-time park their houses beside or behind the house of a friend, relative or landlord.  Others may lease or purchase a property that already has a power source.  The cost of these hookups is included in the starting price of all our tiny houses.
Check out this blog post for more info on how to hook up your tiny house to water and power.
---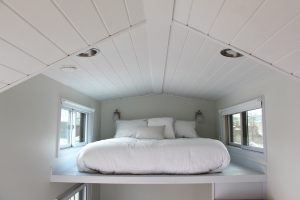 Ready to get started on your tiny house?
Choose your favorite of our Signature Tiny House Models and then get an Instant Estimate for that house with the features and fixtures you want.
When you're comfortable with your price, contact us to get started.
https://www.bbtinyhouses.com/wp-content/uploads/2019/02/fabian-blank-pElSkGRA2NU-unsplash-scaled.jpg
1707
2560
Rick Porco
/wp-content/uploads/2019/09/badgelogo.png
Rick Porco
2019-02-13 12:54:04
2021-09-28 11:37:44
How To Save A Ton of Money on Your Tiny House Build